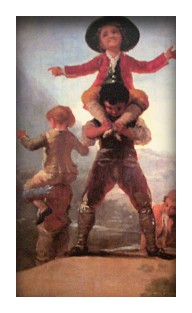 Foreign aid as a percentage of Gross National Income for the year 2001:

 Denmark         1.03%
 Norway          0.83%
 Netherlands     0.82%
 Luxembourg      0.82%
 Sweden          0.81%
 Belgium         0.37%
 Switzerland     0.34%
 Ireland         0.33%
 Finland         0.32%
 United Kingdom  0.32%
 France          0.32%
 Spain           0.30%
 Austria         0.29%
 Germany         0.27%
 New Zealand     0.25%
 Australia       0.25%
 Portugal        0.25%
 Japan           0.23%
 Canada          0.22%
 Greece          0.17%
 Italy           0.15%
 United States   0.11%
Source: OECD Development Co-operation Report, 2002. Gross National Income is the sum of all income received by the citizens of a country. GNI is quite similar to GDP, which you may be more familiar with. Both are measures of a country's production, and they differ by only a small amount.
It may help to picture this in terms of a dinner plate. So Denmark, which generously donates one part in a hundred, you might imagine as throwing a couple of chips to the needy come dinner time, or maybe half a chicken nugget. And the USA, which donates one part in nine hundred, you might imagine as throwing the needy, er, maybe that sprig of garnish that nobody eats anyway. Well, part of it anyway.
Were you surprised by your country's level of foreign aid? If so, how about telling some of your friends the real number, and telling your local MP what you think?
There is hope. After several years of decline, foreign aid rose by 5% in 2002. Private donations, to organizations such as UNICEF, are also on the rise. With greater awareness, we can keep up this momentum. Even a small increase in aid will save many lives, by paying for better access to basic medicine, clean water, and other essentials.